"Time for an Awakening" with Bro. Elliott 7-22-18 guest BFAA-Memphis Pres. Thomas Burrell
"Time For An Awakening" for Sunday 7/22/2018 at 7:00 PM  our guests was Activist, President, Black Farmers and Agriculturalists Association-Memphis, Thomas Burrell and Activist, Farmer, Bishop David Hall. We learned more about the lawsuit filed by Black Farmers against the Stine seed company, for fake seeds being sold to our Farmers in the Black Belt. Hear more about this and other topics from the President of BFAA-Memphis, Mr. Thomas Burell.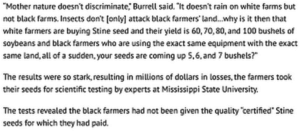 Podcast: Play in new window | Download (Duration: 2:39:19 — 73.1MB) | Embed
Comments are closed.
Scroll down to see next article