Petition Launched by conservative White Media Firm to Include Clarence Thomas into African American Museum After Exclusion
Sharing is caring!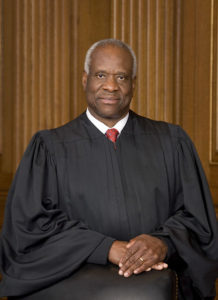 A petition has been started on StandUnited.org for Supreme Court Justice Clarence Thomas, who they believed was snubbed by the newly opened National Museum of African American History and Culture.
There is no mention of Thomas at the museum (except for footage of Anita Hill testifying against him at his confirmation hearings). Some are running to his defense, but the museum is standing their ground, justifying his exclusion.
It is no secret that Justice Thomas is quite conservative, but his supporters do not think this should be the difference between him being included in the museum. In addition to being the second Black Supreme Court Justice ever, he is the longest-serving Black Supreme Court Justice in the history of the United States.
The petition, entitled "Director for Smithsonian Museum of African-American Culture and History, Lonnie Bunch III : Don't Overlook African American Leaders like Justice Clarence Thomas," was launched earlier this month by Megan Thomas (no relation). Megan insists that Thomas' political stance is to blame for his exclusion. She detailed in the petition,
It is obvious politics is what kept Justice Thomas out of the museum. For years, he has been shunned by the liberal black community since he has spoken out against affirmative action. He has written that affirmative action amounts to racial discrimination, and detailed how it worked against him when he was trying to find work as a lawyer.

Curators at the museum singled out Thomas due to his unique views on race and his conservative thought that the federal government is the greatest threat to our individual liberties. The museum highlights people of less noble endeavors, and it is unfathomable to think the curators were not open-minded enough to include all historically significant African Americans.

Senior campaign organizer, of Standard United told conservative news site CNSNews, "StandUnited users are commenting on the petition about how they want to see Smithsonian embrace history, instead of selectively editing it."

She continued: "Justice Thomas has a uniquely American story, in all its complexity – he grew up in the segregated South, and is now the second most powerful African American man in government."

But on the other hand, it could precisely be his contributions to American government and therefore American citizens that led to his exclusion in the first place. Justice Thomas, who grew up during the Jim Crow era in Georgia, was part of the majority decision that struck down a key part of the Voting Rights Act of 1965, which ensured that Jim Crow states like Georgia (among others) would have all of their citizens vote during elections without intimidation; without confusion and moving polling places without notice; without poll taxes; and without poll tests.

Additionally, Justice Thomas has likened affirmative action — which is meant to correct the historical and current blockades that have kept Black Americans from access to things like jobs and higher education — to Jim Crow, a dehumanizing, segregated and violent period of time for Black people.

When asked by CNSNews why Justice Thomas was excluded, Linda St. Thomas, chief spokesperson for the Smithsonian, responded:

"There are many compelling personal stories about African Americans who have become successful in various fields, and, obviously, Associate Justice Thomas is one of them. However, we cannot tell every story in our inaugural exhibitions.

"We will continue to collect and interpret the breadth of the African American experience," St. Thomas said.
Comments are closed.
Scroll down to see next article