Black Cooperative Development Webinar Series
This webinar session uses the need for food as a springboard for strengthening solidarity, creating stronger relationships among racial and class lines, and building the self-esteem of participants. Food apartheid is a problem that occurs when the Black community cannot access healthy food grown on healthy Black community soil. This results in high occurrences of sickness and disease; which finds Blacks more likely to suffer from obesity and even diabetes.
There is increasingly broad consensus growing among Black organizers that food apartheid includes "the systematic destruction of Black self-determination to control our food (Including land, resource theft, and discrimination) This webinar grappled with new ways to understand the question of food control and explores terms such as Food Apartheid, Food Desert and Food Insecurity. Some have taken what is considered to be a bolder stance and have stated, "call it what it is, food apartheid. "Ultimately, strong policies are necessary to ensure that no Black neighborhood experiences food apartheid and need to redistribute power to remove systems of oppression.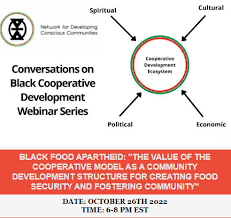 Podcast: Play in new window | Download (Duration: 1:43:30 — 47.4MB) | Embed
Scroll down to see next article