"Proof of Consciousness" (P.O.C.) the Host of REVIVE!!! 8/30/2017
Today's REVIVE show topic is entitled:
"Wednesday Edition"
#TrendingTopics #CurrentEvents
#REVIVETEAM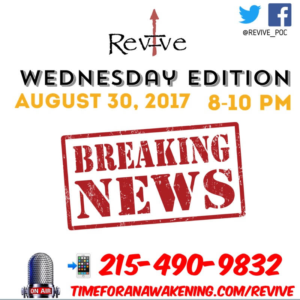 This episode on REVIVE is entitled Wednesday Edition of #REVIVE. We'll be discussing trending topics, current events, and more! You don't want to miss this conversation, join in on the fun!
GUEST:
Suzann Christine: Suzann Christine is classy, creativity, and raw talent. She was the 2012 Philly Hip Hop Award winner for "Best Female R&B Artist". She offers her fans and followers fun yet relatable R&B/Soul/Pop music. This singer/songwriter has won the hearts and ears of thousands within her hometown of Philadelphia and throughout the country. Suzann Christine prides herself on having an "outside of the box" mentality when it comes to music and creativity, but still focusing on positivity and giving back to the community.
YOU CAN CATCH REVIVE EVERY SUNDAY 11 AM-1 PM & EVERY
WEDNESDAY 8 PM-10 PM!!!  
It would be amazing to hear your perspective. So please call in we want to hear what you guys the listening audience out there have to say always. Once again this show is for the people. We here at REVIVE thrive off of communication. So call us at (215)490-9832 & follow on Twitter and Facebook @REVIVE_POC !
 WE NEED YOU ALL TO BE APART OF THE CONVERSATION!!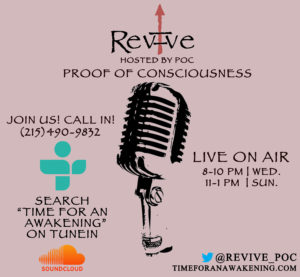 Podcast: Play in new window | Download (Duration: 1:59:44 — 55.0MB) | Embed
Scroll down to see next article