Five important books that tell the tale
By Erica Armstrong Dunbar
Erica Armstrong Dunbar, a professor of history at the University of Delaware. Here, Dunbar recommends five books about the brutal struggle that black Americans faced in the epochal transition from slavery to freedom.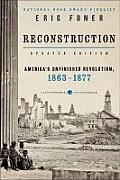 RECONSTRUCTION
America's Unfinished Revolution, 1863–1877
by Eric Foner
Harper & Row, 1988
Buy this book
Now a classic text, Reconstruction examines the period that followed the Civil War. Foner recounts, in stunning detail, the triumph and tragedy of a nation that attempted to rebuild a democratic republic in the shadow of slavery and after years of violent conflict. The book's major concerns—citizenship, civil rights, and the legacy of racism—remain hotly contested to this day.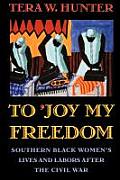 TO 'JOY MY FREEDOM
Southern Black Women's Lives and Labors After the Civil War
by Tera W. Hunter
Harvard University Press,
1998Buy this book
After the Civil War, black men and women created their lives anew as free people, often taking to the open road in the attempt to distance themselves from their memories of slavery and the cotton fields. Hunter offers a compelling narrative about the lives of black women in the urban South who refused to buckle under the challenges of black codes, racial violence, and the rise of Jim Crow. To 'Joy My Freedom chronicles the experiences of the women who worked to rebuild families, earn an income, and find ways to live and love in turbulent times.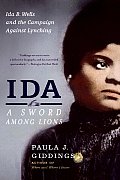 Ida: A SWORD AMONG LIONS
Ida B. Wells and the Campaign Against Lynching
by Paula J. Giddings
HarperCollins, 2008
Buy this book
In this meticulously researched biography, Giddings uses the life of Ida B. Wells to expose the racial terror faced by African Americans in the post-Emancipation years. Born enslaved in Mississippi, Wells confronted the vulnerability of black life by challenging white supremacy. As a journalist and crusader in the fight to end lynching, she held the nation accountable for its sins.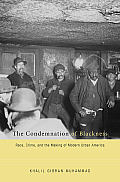 The CONDEMNATION OF BLACKNESS
Race, Crime, and the Making of Modern Urban America
by Khalil Gibran Muhammad
Harvard University Press, 2011
Buy this book
Muhammad's book is an impressive achievement and a timely read. He explores the perceived markers of race and criminality in the first generation of black men and women born after slavery. The Condemnation of Blackness explains how the notion of black criminality has left a devastating mark on African-American lives from the Jim Crow era up to the present.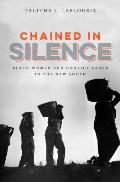 CHAINED IN SILENCE
Black Women and Convict Labor in the New South
by Talitha L. LeFlouria
University of North Carolina Press, 2016
Buy this book
This beautifully written book leads its readers on the journey from Emancipation to the devastating convict-leasing system in Georgia. Centering her narrative around black women, LeFlouria shows how the South's convict-labor system forced African Americans into labor camps and factories where the conditions were similar to enslavement. Chained in Silence examines the exploitation of black women's bodies, the beginnings of mass incarceration, and the rise of the modern New South
Scroll down to see next article