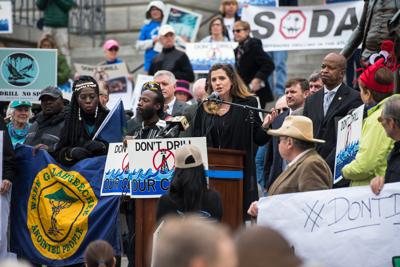 By Bo Petersen [email protected]
It's an affront or an opportunity, depending who you ask.
The oil interest lobbying organization American Petroleum Institute has launched a campaign targeting minority communities, including African-Americans, to promote offshore exploration and drilling for natural gas and oil. The pitch is it's a job creator.
The effort is gauged to counter massive opposition to the offshore alternative that numbers in the millions of individuals and groups.
That opposition is largely people who are white — one of its acknowledged weak points.
But the institute's Explore Offshore campaign has sparked some outrage.
"I'm not surprised in this political climate," said Marquetta Goodwine, a Beaufort County resident who goes by Queen Quet. She has been dubbed chieftess of the Gullah/Geechee Nation.
She is among the more prominent drilling opponents who are African-American. "Those things make me highly irate," she said.
But the campaign has won some support.
"Quite frankly, what I was concerned about was there were a whole lot of white people (at a public meeting on the issue) and not a whole lot of black people," said Stephen Gilchrist, chairman of the South Carolina African American Chamber of Commerce and the Explore Offshore effort in South Carolina.
"African-Americans are economically disenfranchised on the coast," he said.
The campaign has been taken up by the African-American chamber as well as at least 68 other businesses, pro-business groups and anti-tax groups in the Southeast, from Virginia to Florida. In South Carolina, they include the Palmetto Promise Institute and S.C. Association of Taxpayers.
Industry analyst Offshore Technology reported the campaign specifically focuses on minority communities and that its support reflects the focus.
"These groups include a large representation from black, Hispanic and minority communities, which historically have shown less support for offshore oil and gas exploration than others — something the API is keen to change," the report said.
How many jobs at stake?
The Explore effort has drawn controversy as drilling opponents brace for a long-expected Trump administration announcement of where federal leases will be offered. These leases will permit seismic blasting exploration for natural gas and oil offshore.
South Carolina Gov. Henry McMaster, an early supporter of Trump, has joined leaders of other Southeast Coast states lobbying the administration to be excluded from those leases.
Oil industry and conservation opponents have fought for more than six years over opening the Southeast coast to exploration. The Obama administration closed the waters in 2016. President Donald Trump restarted the process for the years 2019 to 2023.
The issue pits a concern for the environment and a billion-dollar tourism industry against potential revenue and jobs.
The millions opposed to the work on the East Coast include more than 120 municipalities, 1,200 elected officials and 41,000 businesses. Nearly every coastal government in South Carolina, hundreds of businesses and thousands of residents have publicly opposed the move.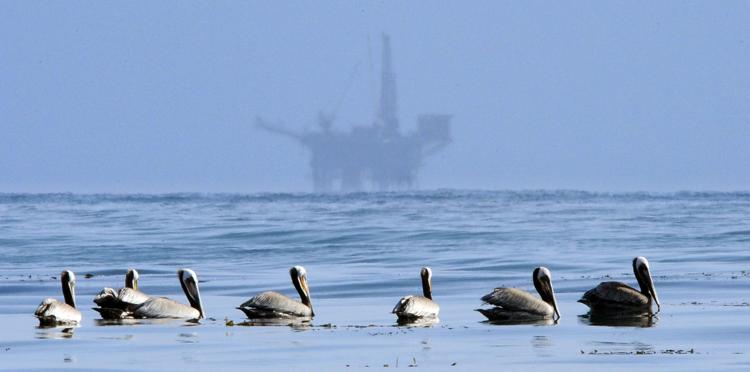 With federal momentum now shifting toward the leasing, they have been trying to rally against an intensified public push by drilling proponents who advocate "offshore energy exploration and production that can increase jobs, investments, and reliable, safe, and affordable energy," Explore Offshore says in part on its website.
The jobs issue has been a sticking point from the beginning of the controversy. Drilling proponents say the work could bring $3.8 billion to the state's budget and $2 billion in industry and support industry development, creating as many as 34,000 jobs, including jobs that could pay more than $100,000 per year.
Opponents say that's wildly inflated.
"Seismic testing won't bring the first job to South Carolina," said Frank Knapp, president of the S.C. Small Business Chamber of Commerce. The oil industry brings in its own crews from out-of-state, he said.
"The only way you can justify thousands of jobs is to industrialize a portion of the South Carolina coast" at the cost of tourism revenue, existing coastal industries such as fishing and the environment, he said.
Gilchrist acknowledges the numbers might be best-case and the threats could well be real. But he doesn't think that should "stop the conversation" about what economic benefits the work might bring.
"I'm just as concerned as anyone else. I don't see this as an either-or. It's a both-win. Let's see if we can do this and protect the coast," Gilchrist said. "We can be proactive rather than reactive here, figure it out on the front end."
'Have to get educated'
The shortfall of vocal participation among people of color in the controversy remains a problem for both sides.
"We are always looking for ways to increase diversity within the coalition," said Samantha Siegel, a Charleston-based senior organizer for the environmental group Oceana, which is among the leaders of the opposition coalition. "We think it is important that decision makers hear from a diverse group of citizens."
The coalition includes a diverse array of community, political and business groups, she said.
"But I do think there is more work to be done in terms of educating more folks in the state and particularly the folks that live in vulnerable communities where an oil refinery could be built one day if we don't stop it," Siegel added.
Gilchrist doesn't see the Explore effort as exploitative. Asked about that, he said the work could be a shot at economic opportunity and training for a community that needs it.
"The people I know are barely making it," he said. "We're talking about the plight of 40 percent of our state."
Many in the the "target" audience might just be waiting to see.
"They have to bring me something to back up (job creation)," said Awendaw Mayor Miriam Green, a town in the rural, relatively lower-income stretch of northern Charleston County. She has not been contacted by Gilchrist or the Explore Offshore effort.
One reason why her phone has been quiet? She is anti-drilling.
"People really have to get educated to what's going on in the world today," she said. "(Groups) will single you out for their purposes."
READ MORE AT: https://www.postandcourier.com/news/oil-industry-woos-sc-african-americans-to-support-offshore-drilling/article_1797390c-d3b7-11e8-84e9-4fe71b9765a0.html
Scroll down to see next article