Communities of color are actually disproportionately likely to report crimes—it's police themselves who have maintained a corrosive culture of silence.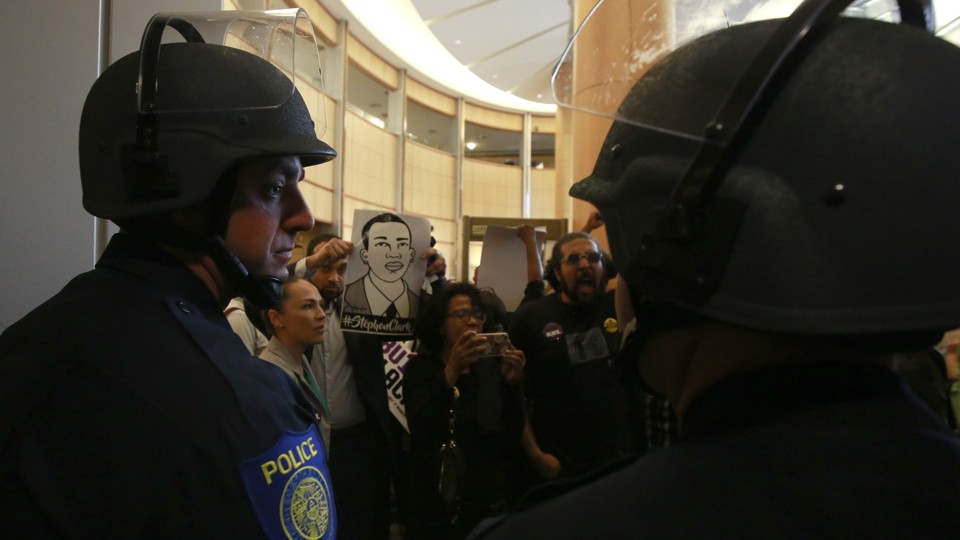 IBRAM X KENDI   May 14, 2018
A 911 caller living in a nonwhite neighborhood snitches.

A man wearing a black hoodie "busted both my truck windows out," the caller reported on March 18, "and he's in people's backyards right now." Two officers, Terrence Mercadal, a black man, and Jared Robinet, a white man, arrived on the nighttime scene in South Sacramento. Several minutes later, Mercadal and Robinet were running up a dark driveway, pursuing the suspect, flashlights clearing their sight. "Hey! Show me your hands! Stop! Stop!" one shouted. They turned a corner and through the glare of their flashlights saw a 22-year-old black male in his own backyard.

"Gun, gun, gun!" an officer yelled seconds later. Body-cam footage showed Stephon Clark seemingly abiding by their last order, turning to them to show them his hands, one of which clasped his white iPhone. A belief "the suspect was pointing a firearm at them," to quote the Sacramento Police Department's statement, is all police need to become executioners. Police officers do not require certainty to exact the certainty of death.
Both officers unloaded 20 shots into the darkness, at the darkness. "Are you hit?" one officer asked after the 20th shot. "No, I'm good," the other responded.

Minutes later, a police sergeant arrived. The sergeant escorted Mercadal and Robinet to the street. "Hey mute," the sergeant said, as he reached for his body camera. The audio of the Mercadal's and Robinet's body cameras fell silent, like Clark's unarmed body nearby. More officers arrived on the scene and muted the audio of their body cameras, as shown in the more than 50 videos and two audio clips that Sacramento Police Department released in April.

Nearly two months have passed and only protesters have been arrested. Was justice muted in those critical moments after the shooting? What were those officers saying that they did not want investigators to hear? Will the Stephon Clark death story begin and end like far too many high-profile officer-involved death stories? A citizen, living apparently in a no-snitch black culture, snitches to police. Officers arrive, use lethal force, claim no misconduct, and every officer on the scene refuses to say otherwise. All too often, police officers appear dead-set on ensuring such incidents do not end how they began—in snitching.

Americans have talked constantly about a no-snitch black culture hampering police investigations, leaving violent criminals on the streets. But what about the no-snitch police culture that has hampered investigations into officer misconduct, leaving violent criminals on the streets?
Police officers should lead the way in fostering an American civic culture of reporting lawbreakers. It is their professional duty to snitch, to enforce the law first and foremost against themselves. How can they expect citizens to snitch to them if they refuse to snitch? How can they expect citizens to trust the criminal-justice system if they don't trust the criminal-justice system? Snitching on each other remains their only salvation from this hypocrisy, their best tool for building trust with the communities they purport to serve and protect. But first, they'll have to grapple with an empirical truth: Communities of color are actually disproportionately likely to report crimes—it's police themselves who have maintained a culture of silence.

That's not something most law-enforcement leaders seem inclined to acknowledge. "Law enforcement as a whole has been unfairly maligned and blamed for the unacceptable deeds of a few bad actors," complained Attorney General Jeff Sessions in February. "There is no 'Blue Wall of Silence' … meaning no cops are covering for cops in Las Vegas," an apparently all-knowing Las Vegas real-estate investor and police watchdog claimed in the Las Vegas Sun. "It's not that we're all out here covering for one another," said Sergeant Dan Hils, president of the Cincinnati police union. Loyalty "ends with criminal activity."

Since the 1980s, police officers have grumbled of a growing no-snitch culture—not within their own ranks, but outside their blue wall in black and Latino neighborhoods. "I have been in hospital rooms, even on the street standing over somebody being loaded into an ambulance, and they refuse to talk, and you think, 'What in the world are we here for?'" Sergeant Mike Huff said recently in Tulsa. "But you know this violence is going to spread."
Scroll down to see next article