Farrakhan, Karenga to highlight State of the Black World Conference, Nov. 16-20 in Newark
NEWARK—After the historic 2016 presidential election, the State of the Black World Conference will convene in historic Newark, N.J., as the Black community faces major questions of absolute survival given the racial and political climate, police killings of Blacks across the country as well as the myriad of social and economic challenges that beset African people in America.
The conference will run Nov. 16-20.
Dr. Ron Daniels, president of the Institute of the Black World 21st Century, is convening the State of the Black World Conference IV. "This gathering has the potential to be one of the great gatherings of this century, perhaps this generation's Black Power Conference," he said.
With a closing message delivered by the Honorable Minister Louis Farrakhan of the Nation of Islam, convener of the Million Man March, the largest assembly of people of African descent in the history of America, and an address by Dr. Maulana Karenga, founder of the U.S. Organization and one of the most brilliant, visionary and systematic scholar/activists of the last half century, the State of the Black World will offer bold analysis, visionary leadership and strategies for action.
Dr. Karenga, creator of Kwanzaa, the African holiday celebrated by millions around the world, will speak on the theme, "It's Nation Time … Again, Racial Healing and Collaboration for Black Empowerment."
Minister Farrakhan, who has been present at or supported every State of the Race or State of the Black World Conference since 1994, will deliver the closing charge.
Dr. Karenga and Minister Farrakhan will address the conference after facilitators for Seven Issue Area Tracts present summations and recommended action-items for post conference follow-up.
The Black Family Summit, an umbrella formation of 27 African-centered Black Professional Organizations that was inspired by Minister Farrakhan's call to action during the 10th Anniversary of the Million Man March, will receive special recognition during the closing session.
Fredrica Bey, the visionary founder of Women in Support of the Million Man March, will serve as a moderator during the conference.
The closing Ndaba/Plenary Session is scheduled for Sunday, Nov. 20, 9:30 a.m. to 12 noon.
"Recent police killings of Black people in Tulsa, Charlotte and Columbus, Ohio continue to contribute to the collective trauma of people of African descent, Black people in this country," said Dr. Daniels. "Nearly a half century after Newark erupted in rebellion against police repression, economic inequality and political oppression, it is fortuitous that State of the Black World Conference IV will convene in this city November 16-20. We will be welcomed by Mayor Ras J. Baraka, the son of renowned poet, playwright and political activist Amiri Baraka, who was viciously assaulted during the Newark rebellion.
"Nearly a half century after the Kerner Commission issued its report noting that virtually every insurrection in America's 'dark ghettos' had been precipitated by a police killing or act of misconduct, the world witnessed Charlotte explode non-violently and violently against the continuous, generations of senseless assaults on Black lives. When is enough, enough?" asked Dr. Daniels.
The SOBWC IV is a major forum for deliberation and collective action. A plenary and working sessions will be devoted to ending the War on Drugs, advancing strategies for police reform and accountability, dismantling the prison-jail industrial complex and creating pathways for the successful reentry of hundreds of thousands of formerly incarcerated persons.
The Institute for the Black World has assembled a powerful line-up of dedicated activists, scholars and analysts to address the issues at hand, share knowledge and experiences and recommend strategies for action.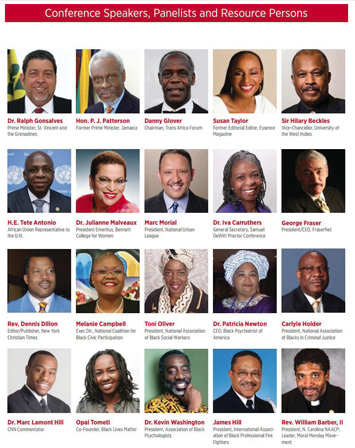 The Plenary Session, Friday, November 18, 9 a.m.-11:30 a.m., will feature presentations by Dr. Divine Pryor, executive director, Center for Nu Leadership on Urban Solutions, NYC; Ron Hampton, former executive director, National Black Police Association and chairman of IBW's Police Reform and Accountability Task Force, Washington, D.C.; Brandi Fisher, executive director, Alliance for Police Accountability, Pittsburgh; Tamika Mallory, co-chair, Justice League, NYC; Atty. Andrea James, executive director, Families for Justice and Healing, Boston; Deborah Peterson Small, executive director, Break the Chains, Berkeley, Calif.; Aswad Thomas, national organizer, Californians for Safety and Justice, Sacramento, Calif.; Charles Thornton, former executive director, Office of Returning Citizens, Washington, D.C.; Tyrone Parker, executive director, Alliance of Concerned Men, Washington, D.C., and Zelli Imani, educator and social justice activist, Newark.  Atty. Nkechi Taifa, senior policy analyst, Open Society Foundations, will serve as moderator.
"As Black people absorb the pain of yet another series of police killings, leaders from Charlotte joined a growing national crescendo calling for the use of economic sanctions/boycotts to, in the words of  Dr. Martin Luther King, 'redistribute the pain' to achieve racial, social and economic justice," said Dr. Daniels.
The growing demand for economic sanctions/boycotts will be one of the critical issues explored during the Economic Empowerment Working Sessions facilitated by Dr. George Fraser, president of Fraser Net; Rev. Dennis Dillon, leader of the Rise Up Black America Campaign and Nataki Kambon, spokesperson for Let's Buy Black 365 Initiative.
For concerned and committed Black people who believe that enough is enough—All Roads Should Lead to Newark, New Jersey, Nov. 16-20, said conference organizers. It's Nation Time and Time for Racial Healing and Collaboration for Black Empowerment, they added. For more conference information, www.sobwc.ibw21.org  or call 1-888-774-2921
Comments are closed.
Scroll down to see next article