These People Are Making A Political Statement By Not Voting In The 2016 Election
AFRICANGLOBE – Larry Fellows III didn't vote in the Missouri primary and may skip the general election, too. He believes his government has failed him at every level—starting with his home community of St. Louis County, where a grand jury declined in 2014 to indict the police officer who murdered Michael Brown.
After his Twitter feed was inundated with images of Brown's lifeless body lying in the street, Fellows was one of the first people to join the protests in Ferguson. He eventually quit his job, accumulating debt and even losing his apartment, to protest full-time. He hoped his activism would pressure local authorities into indicting thug cop, Darren Wilson.
When that didn't happen, Fellows' confidence in the system eroded to the point that he refused to vote for anyone.
"I don't know if I want to continuously partake in a system that oppresses so many people," Fellows, 30, said. "Not to say that voting doesn't change anything, because I think it does influence change. But I also think a huge part of change happens outside of the system as well."
Even as Black turnout has steadily climbed over the past generation, a number of Black people feel so disaffected by the electoral process that they refuse to take part. For them, sitting out is a political choice in itself.
Their logic is that there is no point engaging a political process that will not benefit Black people, no matter who the candidate is. For example, some of the cities in which the most infamous examples of abusive police tactics have occurred—Baltimore, Chicago, New York City, Philadelphia—are run by Democrats, the party that is supposed to have Black Americans' interests at heart.
It's one of the reasons that Quincy Johnson, 40, a truck driver who lives in Denver, has voted only three times in his life (2004, 2008 and 2014) and has no plans to vote this year.
"Hillary and Bernie are trying extra hard to get that Black vote," he said. "Sure, they'll talk to you now to get your vote. But I can guarantee you, once the election is over, try getting a word in then. It's probably not going to happen."
"I can't have faith in my oppressor to not oppress me.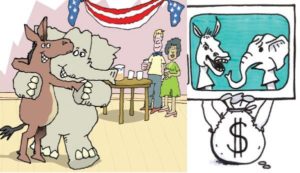 There are a lot of reasons Black people feel that voting in what is essentially a two-party system is pointless. Unemployment for Black Americans has been roughly twice that of white Americans since 1963, the year of the March on Washington. Though Black women overwhelmingly support the Democratic Party, their representation in national and local office is minuscule. And Black people continue to be shot and killed by police at disproportionate rates while the cops who kill them are rarely prosecuted.
As far as Rhone Fraser is concerned, both parties are complicit, so neither deserves his vote.
"The Democratic and the Republican parties work together to cause the problems we as a people are experiencing in terms of militarism, mass incarceration, and austerity," said Rhone, 36, a lecturer at Howard University who lives in Philadelphia. "That is why I advocate boycotting those parties."
He voted for Green Party presidential candidate Dr. Jill Stein in 2012 and voted in a local election last year, but is sitting 2016 out.
"I can't have faith in my oppressor to not oppress me."
Elisabeth Epps, 36, a legal analyst in Denver, is a big advocate of not voting but says she will cast a ballot this year for Stein, who is running again. "Some people would say voting for a third party candidate is equivalent to wasting your vote, but it's quite the opposite," she said. "I feel very strongly that my vote is too important to waste it on a party that doesn't respect my beliefs."
The last time Autumn Marie, 33, remembers wanting to be part of the presidential political process was 2000, when George W. Bush and Al Gore were vying for the White House. Bush's eventual victory convinced her that the election was rigged. Not even the historic campaign of then-Sen. Barack Obama eight years later persuaded her to change her mind.
"I didn't feel like, 'Oh, Obama is going to be my savior,'" she said. "I also wondered, 'Will Black people be complacent and feel like everything is good because we have a Black president?' Eight years later, Black children are "looking at everybody their age being killed by police."
You might assume that Rhone, Marie, Epps, Fellows, and Johnson are simply apathetic, but that isn't the case. Fellows devoted months of his life to protesting in Ferguson, and Rhone is active in a Democratic club in Philadelphia. Marie is active in Black Lives Matter. Epps has volunteered and worked on campaigns in local and presidential elections.
"People tend to read Black folks not voting as a sign of apathy, but, in fact, it is often an indication of a lack of faith in the political process that speaks to the conditions of the Black community," said Eddie Glaude, a professor of religion and African-American studies at Princeton University. "In some ways, it's protesting the two-party system. The two-party system seems to force the belief that our only choices are right in front of us. Some people reject those two choices and choose not to chose between them."
For all the Black people who have given up on voting, many more are going to the polls. Black voter turnout has significantly increased over the last seven presidential cycles. In 1988, when Jesse Jackson ran for president, the turnout rate was 46.8 percent. It reached an all-time high in 2008 at 69.1 percent before dipping to 67.4 percent in 2012.
For many minorities, the stakes in this year's presidential race could not be higher. Donald Trump, the presumptive GOP nominee, has referred to Mexican immigrants as "rapists" and "killers," and proposed banning Muslims from entering the U.S. His attitude toward the Black Lives Matter movement has been confrontational. He referred to activists protesting the death of Freddie Gray as "thugs." Trump antagonized Black protesters at one of his rallies by saying that "all lives matter," a refrain with anti-Black undertones. Accusations of racism against him date to 1973, when the Justice Department sued his real-estate company, alleging discrimination against Black people who wanted to rent his apartments.
In many Black circles, if you say you aren't voting, you'll be met with a side-eye or accusations of being irresponsible. One common refrain is that "our people died for the right to vote," so why dishonor them by not exercising the franchise?
Fellows, who is gay, balks at such thinking. "I also have the right to marry, so that means I should go find a husband?" he asks. "Shaming me is not going to make me go to the polls."
Since before the Emancipation Proclamation, Black Americans have had a tumultuous relationship with American electoral politics. Black suffrage expanded during Reconstruction, but for the next century, until the 1965 Voting Rights Act, voting laws across the South severely restricted the Black vote. Even today, Republican-led state legislatures are passing laws that critics believe are designed to discourage minorities from voting.
This Election Day, 17 states will have new voting restrictions on the books, according to the Brennan Center for Justice. These include strict photo ID requirements, cutbacks in registration, and limits on mail-in ballots. A study by the University of California, San Diego, found that voter ID laws not only disproportionately target minorities but "skew democracy toward those on the political right."
In 1956, W.E.B Dubois wrote in The Nation that he refused to vote because "democracy has so far disappeared in the United States that no 'two evils' exist. There is but one evil party with two names, and it will be elected despite all I can do or say." Even as Black Americans began voting for Democrats in large numbers during the 1960s because of the party's support for strong civil rights legislation, Malcolm X referred to them as "political chumps." His argument was that Democrats had waited years to address racist policies when they could have dealt with them immediately.
That some Black people would feel disillusioned with voting and the two-party system should not be surprising, said Minkah Makalani, an assistant professor of African and African diaspora studies at the University of Texas in Austin.
"This is a response Black people have had to the political system well before Dubois," he said. "You see this in the nineteen-teens, 1920s, during the Harlem Renaissance, where the argument at that time was, 'We aren't getting what we want from either party. But the socialist or the communist parties are being more responsive to our concerns, so that's who I'm voting for."
In 2016, activism is central to the election as organized protests and actions have pressed candidates to address police violence and economic inequality. Throughout this vast movement of organizers and activists are diverse views about how to engage the political process.
Joan Fadayiro, 25, a member of BYP100, a Black millennial organization in Chicago that trains activists and focuses on social justice, told reporters that her organization provides a wide range of ways to engage the political process. For example, critics believed that Cook County prosecutor Anita Alvarez helped suppress dashcam video of an officer shooting 17-year-old Laquan McDonald 16 times. In response, BYP100 organized #ByeAnita. The action included protests, but it also focused on phone-banking that encouraged Chicagoans to vote Alvarez out of office during Illinois' March primary. The millennial group's efforts helped Alvarez's challenger, Kim Foxx, cruise to victory with 62 percent of the vote in a three-way Democratic primary race.
During the #ByeAnita action, some members participated in voter outreach, others protested on the streets, and some did a little of both. While the point of the action was to get people to the polls, BYP100 did not pressure its members to do so.
"The most important thing in our communities when we think about liberation and self-determination is that we don't all have to do the same thing," Fadayiro said. "People should have the freedom to engage however they want to engage."
Ifeoma Ike, co-founder of Black and Brown People Vote, encourages BYP100's multi-pronged approach to political engagement, saying voting is an essential tool for brokering power—even in an imperfect structure.
"What BYP100 did was turn democracy on its head and said, even within a system that doesn't work for us, we're going to use these tools to at least get the people who are harming us out of power," she said.
The challenge behind not casting a ballot is that our current political structure does not recognize the non-vote as power-brokering, said Anthea Butler, an associate professor of religion and Africana studies at the University of Pennsylvania.
"I understand perfectly their right to say that these people do not have our best interests in mind, so I can't vote for them," she said. "But the other part of the problem is how are you going to influence anything. So the kinds of interests you might have, you can't affect changes that you want because you aren't part of the process. You don't have anything to hold against them."
Marie doesn't see it like that. She believes her activism is, in fact, enough to hold politicians accountable. And she believes that the political system is too crooked for voting to really change it. There are exceptions, she said: The election of the late Chokwe Lumumba as mayor of Jackson, Mississippi, in June 2013 was an indication that Black people could vote for candidates who challenged American imperialism and white supremacy, Marie said.
But such candidates are rare, she said. Asked whether she would consider ever voting again, Marie said she there was no chance.
"I have no faith in this system when it comes to delivering freedom for me and my people," she said. "I can't have faith in a system that was built by people to oppress us and protect their interests. I can't have faith in my oppressor to not oppress me."
By: Terrell Jermaine Starr
There are options:
"One Million Conscious Black Voters and Contributors" (OMCBV&C)
PLEASE JOIN http://www.iamoneofthemillion.com/
Scroll down to see next article